Serious fun for all age groups from 6 to 66 (or older!)
The Crystallite LaserTag System
Serious fun for all age groups from 6 to 66 (or older!) – the Crystallite System provides safe and captivating entertainment by virtue of its long-established two-handed operation and rugged construction.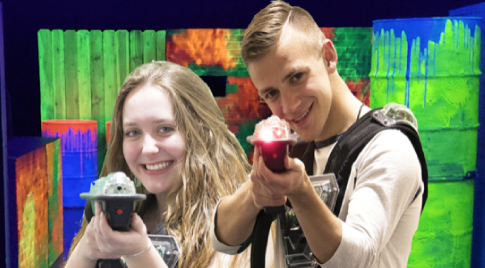 Watch this video of a site in Katowice, Poland – plenty to see!
The Crystallite Pack
Simplicity, ease of use and light in weight means that the Crystallite Pack is suitable for all age groups.
The vests adjust to fit all shapes and size of player.
Weighing in at just 2.5kg, comfort is ensured – twin front triggers cater to both the left and right-handed.
Wrist straps preclude the phasers being dropped accidentally.
Tough chest, back and shoulder pods glow gently in UV lighting. A total of 35 tri-colour LEDs provide team indication.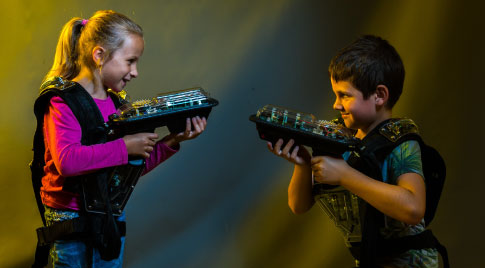 Each pack has a total of 12 IR sensor modules – hits from all directions are ensured.
A grenade launcher (front trigger) provides for the launch of fatal or 'single life' grenades.
The umbilical connection between phaser and vest is doubly strong because of its construction of webbing and reinforced PVC hose.
Stainless steel screws are used throughout Crystallite packs, so never any corrosion. Servicing is simple in the extreme – the inside of the phaser can be accessed by the removal of a single screw.
Atrium Plus Control Software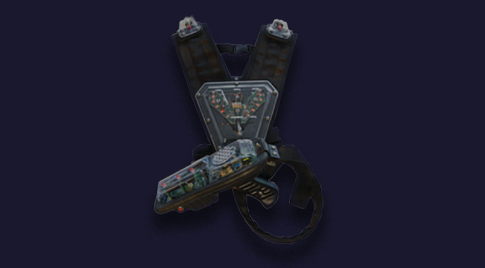 Atrium Plus allows for the control of up to 80 packs, 4 Home Bases and 12 Midi-Its (see below). Handicaps are quickly and easily created and edited and many on-board gameplans can be modified using the handicaps.
You may enter players by name, or with Quick-Enter. Players may have aliases assigned manually or automatically – new aliases can be automatically saved.
Your own choice of event sounds, backing tracks/playlists and score form logos can be assigned and edited, as can score monitor background graphics.
Scoring and Import/Export Capability
Different points values can be assigned for types of game event – you may opt to print score forms individually or automatically.
Import games from a central booking system and export scores after games. This requires a simple low-cost package from one of our associates. Or you may write your own – all the data is available for you to use! If this interests you then please ask for details.
Ancilliaries – The Home Base
The Home Base can be used in a variety of ways, all programmable via Atrium Plus. Supplied in a tough wall-mounting case, this unit features a 100mm red/green seven segment display, large illuminated LCD display, relay outputs for the various Home Base events during a game, remote trigger input, remote IR output (for hitting those pesky players who are hiding). There may be a maximum of two pairs of Home Bases, but the usual procedure is to have just the one pair.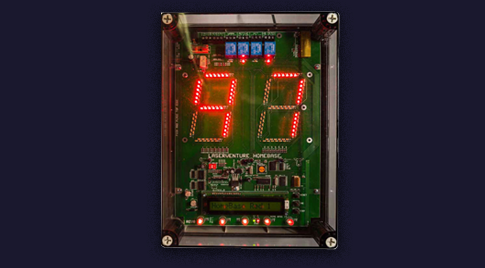 One pair of these units is required in order to play Capture/Carry the Flag gameplans. Plans and other parameters are all selectable via the Home Bases Tab in Atrium Plus set up.
Apart from the Flag gameplans, other Home Base game plans include Home Base Defence and Home Base Target. For more information see the instructions pdf on our Brochures page.
Ancilliaries – The Midi-IT
The Midi-IT offers ten separate functions ranging from Recharge Station right through to Time Bomb. Options to top up shots and lives are also provided along with a Jail mode, where an unruly player can be sent for a pre-determined period.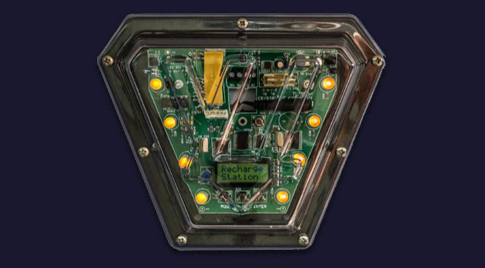 All Midi-ITs are radio-linked, on the same loop as the Home Bases. There may be up to 12 Midi-Its in a system. An illuminated LCD display shows the current status of the unit. A relay output is provided for controlling external equipment during active period and an external trigger input is also available.
Midi-Its are very easily configured to be friendly or hostile to either red, green or both teams. Their active times are programmable and they can be trained to retaliate to hits on them.
Ancilliaries – The Mini-IT
The Mini-IT is the original ultra-low cost arena device on a ball-joint mount, with five programmable functions, as follows: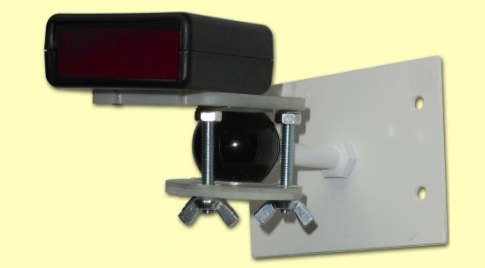 Recharge Station
Wildcard Mine
Fatal Mine
Time Bomb Mine
Jail
The active time is programmable and there is also a relay output for driving external equipment.
Active to red, green or both teams.
A very old picture of a Mini-IT. On current production the mounting is all-black
For pricing, contact Laserventure.