Crystallite - the ultimate LaserTag system
The Crystallite LaserTag System
Important: the LaserVenture site is more easily viewed on a desktop or laptop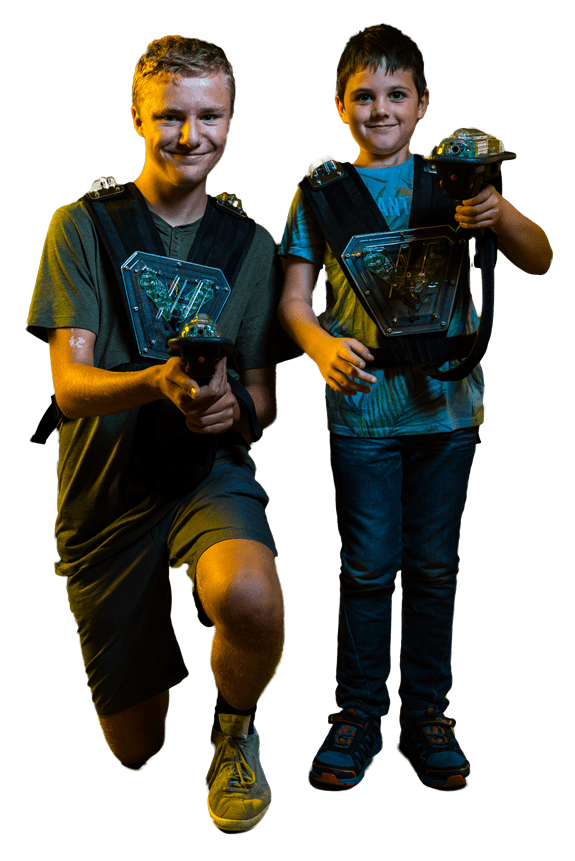 Serious lasertag fun for all age groups from 6 to 66 (or older!) – the Crystallite System provides safe and fun entertainment by virtue of its long-established two-handed operation and rugged construction
Watch this video of a site in Katowice, Poland – plenty to see!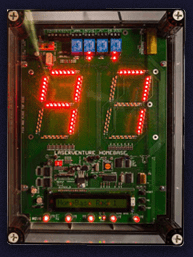 Ample Solo or Team Gameplans
Score Monitor capability
Phaser firing range up to 35m
Up to four games can concurrently be booked
868-920MHz radio loop range up to 200m
Editable event sounds and background music playlists
A range of interactive Arena Devices available at low cost
Supports a range of web-based booking utilities
The Crystallite Pack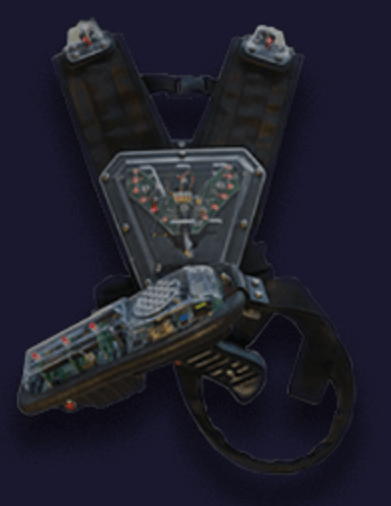 Simplicity, ease of use and lightness
suitable for all age groups
Vests adjust to fit all shapes and sizes
Pack weight only 2.5kg
Twin front triggers cater to left & right-handed
Wrist straps prevent phasers being dropped
Chest, back and shoulder pods glow gently in UV lighting
A total of 35 tri-colour LEDs provide team indication
Each pack has a total of 12 IR sensor modules – hits from all directions are ensured
A grenade launcher for the launch of fatal or 'single life' grenades
Triple-strength umbilical connection between phaser and vest
Stainless steel screws are used throughout Crystallite packs
Servicing? Phaser shell secured by a single screw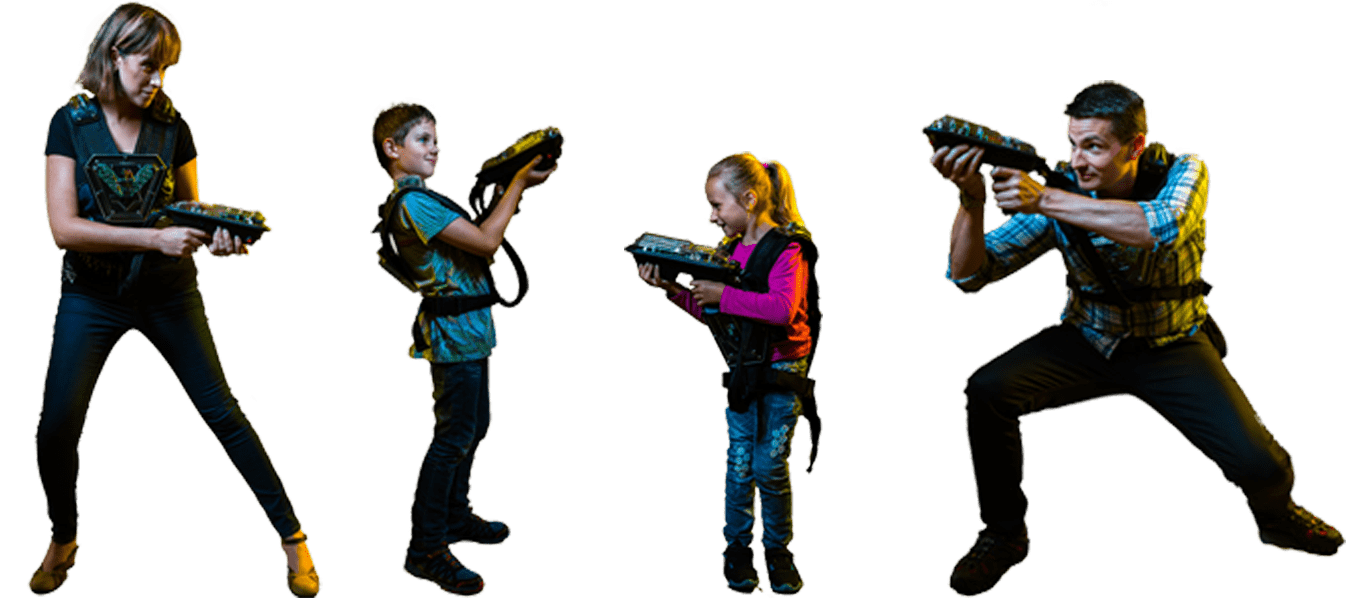 AtriumPlus+ Control Software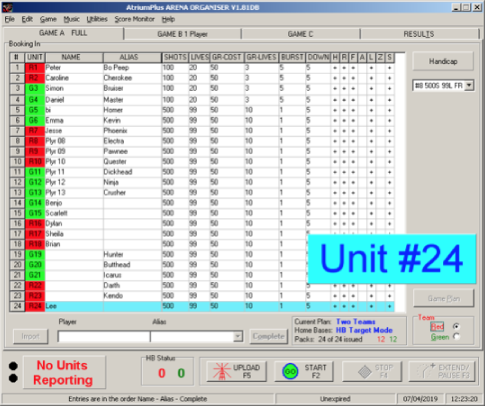 Atrium Plus allows for the control of up to 80 packs, 4 Home Bases and 12 Midi-Its (see below). Handicaps are quickly and easily created and edited and many on-board gameplans can be modified using the handicaps.
You may enter players by name, or with Quick-Enter. Players may have aliases assigned manually or automatically – new aliases can be automatically saved.
Your own choice of event sounds, backing tracks/playlists and score form logos can be assigned and edited, as can score monitor background graphics.
Different points values can be assigned for types of game event – you may opt to print score forms individually or automatically.
Import games from a central booking system and export scores after games. This requires a simple low-cost package from one of our associates. Or you may write your own – all the data is available for you to use!
Ancilliaries – The Home Base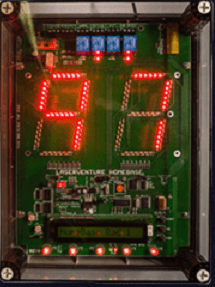 The Home Base can be used in a variety of ways, all programmable via Atrium Plus. Supplied in a tough wall-mounting case, this unit features a 100mm red/green seven segment display, large illuminated LCD display, relay outputs for the various Home Base events during a game, remote trigger input, remote IR output (for hitting those pesky players who are hiding). There may be a maximum of two pairs of Home Bases, but the usual procedure is to have just the one pair
Game plans include Home Base Defence and Home Base Target
One pair of these units is required in order to play Capture/Carry the Flag gameplans. Plans and other parameters are all selectable via the Home Bases Tab in Atrium Plus set up
Apart from the Flag gameplans, other Home Base game plans include Home Base Defence and Home Base Target
A system may have one or two pairs of Home Base targets
For more information email us - or use our contact page
Ancilliaries – The Midi-IT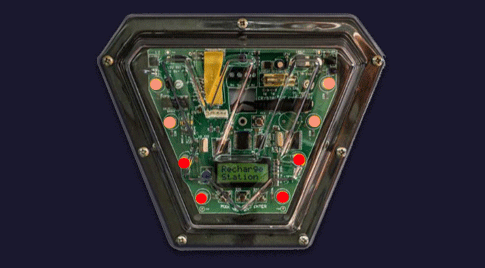 The Midi-IT offers ten separate functions:

&nbsp&nbsp&nbsp&nbspRecharge Station tops up players lives
&nbsp&nbsp&nbsp&nbspTarget - hit to score points
&nbsp&nbsp&nbsp&nbspAdd 10 Lives
&nbsp&nbsp&nbsp&nbspAdd 100 shots
&nbsp&nbsp&nbsp&nbspMake Player Invincible
&nbsp&nbsp&nbsp&nbspMake Player Invisible
&nbsp&nbsp&nbsp&nbspWildcard Mine - Costs 'hit' players one life
&nbsp&nbsp&nbsp&nbspFatal Mine - immediately takes all lives of nearby players
&nbsp&nbsp&nbsp&nbspTime Bomb - gives players in vicinity 5 seconds warning
&nbsp&nbsp&nbsp&nbspJail - used for player discipline

Active and dwell times programmable via AtriumPlus+
Active for red, green or both teams
Effect relay and IR emitters output
Radio-linked, as for the Home Bases
Up to 12 in a system
External trigger input

Ancilliaries – The Mini-IT
The Mini-IT is the original ultra-low cost arena device on a ball-joint mount, with five programmable functions, as follows:
Recharge Station tops up players lives
Wildcard Mine - Costs 'hit' players one life
Fatal Mine - immediately takes all lives of nearby players
Time Bomb Mine - gives players in vicinity 5 seconds warning
Jail - keeps quarantined/jailed player inactive for his/her 'sentence'!
The active time is programmable
A Outputs provided for driving external equipment and IR emitters
Active to red, green or both teams
A very old picture of a Mini-IT. On current production the mounting is all-black
For special requirements, contact Laserventure.
Crystallite System Price List
| | | |
| --- | --- | --- |
| Crystallite Component Part Prices | GBP (£) | Euros |
| Base Cost - USB Interface - 20m arena data cable - Arena Transceiver | 648 | 745 |
| Crystallite Phaser and Vest, storage bracket and charging cable | 990 | 1139 |
| SC1 6 channel charger | 220 | 253 |
| Mini-IT multifunction wall-mounted arena device | 148 | 170 |
| Midi-IT radio- linked 14 function wall-mounted arena device | 245 | 282 |
| Home Base Target radio-linked interactive target | 765 | 880 |
| Crystallite pack without vest | 477 | 549 |
| Crystallite Complete System Prices | | |
| 6 pack Crystallite system (includes 2 Mini-Its) | 6588 | 7576 |
| 12 pack Crystallite system (includes 4 Mini-Its) | 12528 | 14407 |
| 18 pack Crystallite system (includes 4 Mini-Its, 2 HomeBase Targets) | 18468 | 21238 |
| 24 pack Crystallite system (includes 4 Mini-Its, 2 Midi-Its, 2 HomeBase Targets) | 24408 | 28069 |
| 30 pack Crystallite system (includes 6 Mini-Its, 4 Midi-Its, 2 HomeBase Targets) | 30348 | 34900 |
| 36 pack Crystallite system (includes 8 Mini-Its, 4 Midi-Its, 4 HomeBase Targets) | 36288 | 41731 |
| 48 pack Crystallite system (includes 8 Mini-Its, 6 Midi-Its, 4 HomeBase Targets) | 48168 | 55393 |
| Prices subject to large discounts to approved customers | | |
LaserVenture contact information
email - sales@laserventure.com - or use our contact page
Post and Servicing:
LaserVenture (Sequoia Developments) Hazelhurst Broad Oak Rye England TN31 6EU
Phone - Office +44 (0)1424 883 411 - Mobile 44 (0)7970 356 425