Imagine a leisure game along the lines of 'Mission Impossible' or 'Entrapment'
The Concept
Imagine a leisure game along the lines of 'Mission Impossible' or 'Entrapment' and there you have LaserMaze. Every system has a number of lasers, red, green or a mixture of red and green that play their beams at angles across the 'maze'. Of course, the beams do not need to be at angles – they can be at varying heights and/or parallel.
Theming for your LaserMaze is totally within your own remit. Here is a prehistoric jungle at the Summer Palace of the Crown Prince of Dubai. Just 16 lasers but very, very effective – and is against the background of a LaserTag system also installed along with the dinosaurs!
Europa Park in southern Germany called their system 'The Queen's Jewels', using packing cases to create extra obstacles.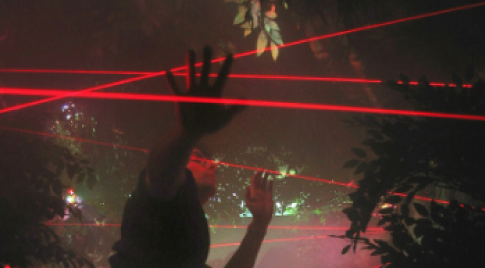 Note: LaserMaze can be synchronised with the Crystallite LaserTag System.
Our lowest cost LaserMaze system is the original (conventional) red version.
Since 2017 we have been able to offer the SMPS LaserMaze, which means that you may choose to have red, green or red and green lasers in any combination. The advantage of the SMPS system is that the lasers are controlled via special powers supplies which minimise the current consumption of the system and will eventually allow us to expand the system to a maximum of 48 or even 64 lasers.
Why not watch this video of a red LaserMaze in Poland?
Additional Features
LaserMaze is not such a simple system as you may deduce from the information you have read so far. What else can you do with the product? Consider our PinPoint software, which is the control program for LaserMaze. It is free issue, with free upgrades for life.
Beam Patterns – Up to 20 can be created at each of the three Skill Levels (see next topic).
Skill Level – Easy, Regular Hard – you can manually or automatically create your own sets of beam patterns using pre-determined number of lasers.
You can double the length (and duration) of the game by using the Midway function which allows the player to get to the end of the maze and then, instead of stopping the game, by changing the beam pattern and maybe increasing the skill level.
Score Monitor – you can display game status and previous scores like below here. All graphics may be edited by you.

You may use a Touch Screen to book in players and start games...

Background and Game Event sounds can be assigned an edited as you wish.
A utility is provided for smoke/haze machine control, including warm-up, smoking and interval periods, plus manual smoking.
LaserMaze – the Hardware
Here you can see the essentials of the LaserMaze hardware. Each system consists of: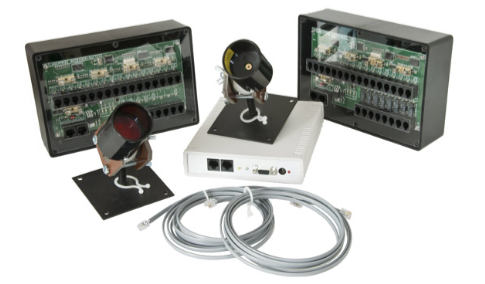 A pair of Group boxes, one for the lasers and one for the receiver. System over 16 channels have two pairs of group boxes.
A power supply and USB PC interface.
A number of pairs of lasers and receivers. Each module is on a heavy-duty balljoint, allowing the laser beams to be pointed exactly where you wish.
Interconnecting Cat5 cables for the Group Boxes.
Cable, RJ connectors, plus a cable tool and cable tester so that all the cables can easily be measured, cut to size, crimped and tested.
A 16 channel system arrives in a compact box weighing just 15kg. Full instruction and also a 'Fast Track' set of instructions are on our downloads pages.
LaserMaze – Auxiliary Features
Receiver Group Box – this has eight auxiliary inputs for the (included) heavy duty vandalproof start and stop switches and a variety of other uses.
Laser Group Box – eight auxiliary outputs are provided, that are triggered by game events such as start, stop, beam break and midway. There is also an output to control a smoke machine.
Why not email us and ask for pricing – state your needs!